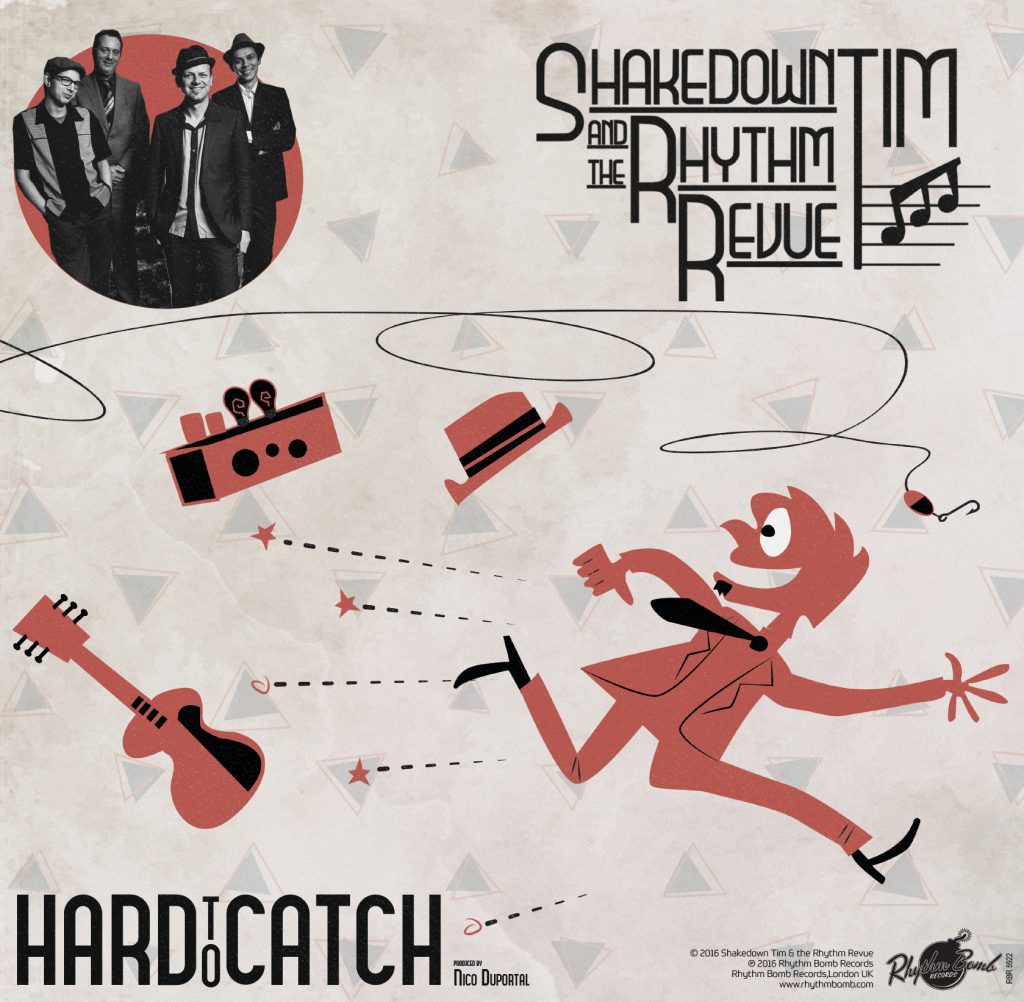 HARD TO CATCH  (2016)
1 – How long
2 – Red Hair
3 – Hard to catch
4 – take off your clothes
5 – Shakedown
6 – Feelin good (radio Edit)
7 – This ship
8 – Wild calypso night
9 – Wiggle 'n' Wobble
10 – Takin' off
11 – Bonus : Feelin good (long version)
All songs written by Tim Ielegems except Take of your clothes (Donnie Mc Cormick) and Feelin' good (Little junior Parker).
ShakedownTim: vocals, guitar
Bart Stone: tenor en baritone saxophone
Boss: upright bass
Dennis Tubs: Drums
Nico Duportal plays some cool Magnavibe guitar on 'take off your clothes'
All backing vocals & percussion by Nico Duportal & The Rhythm Revue.
 HARD TO CATCH: A word from our producer
About 20 years ago, I was a Lil' frenchy Blues player and I was crazy of Belgium !! Good beer, creativity, Kindness , sorry but yes, a huge sense of humor …. But I was especially crazy about those Belgian cats who played American roots Music, and it was the tip of top : The Electric Kings, El Fish, Elmore D, Marc T, The Seatsniffers, just to name a few of them ….
Unfortunately, for the last 10 years lots of those bands had to split
Here and Now, 2016 a new day is coming … So, Give it up for The amazing and talented Shakedown Tim ( aka Tim lelegems, ex Fried Bourbon, Gene Taylor Band … ) and The Rhythm Revue
I'm so proud this friend called me up to join forces and help them in producing their debut Album!! Don't get it wrong, it's not just another Blues record as it's been done for the last 10 years … No, no, this one is 100 % genuine with about 10 (+ 1 bonus track) originals songs for about more than 35 minutes of great Music, written by Tim and the Gang . All kind of moods are on it, not only "West-coast Blues" … You'll find some inspirations from the Rough Memphis Blues / R&B sounds , and a relaxed and tight Caraibean Calypso thing … Listen to the lyrics !! Geez, Tim has a great sense of humor, even when he's talkin about the serious thing of contemporary issues and troubles in the modern way of life ! What about the guitar ? hum to me Tim is a mix of heroes from the late 40's / mid 50's as Robert Lockwood, Earl Hooker, Pat Hare with some good and tasty influences from his contemporary slingers and Artist as my friend Junior Watson … also you can hear some Tom Waits mix with Watson or Holmstrom guitar licks, when Tim Turns freaky, dumb on "take off your clothes" . Actualy this one is one of my favorite !!
"hard to catch" was recorded in 4 days at the sputnik studio near Antwerp, and it was full of good vibes and moods during the time I've spent there with this great bunch of guys. I know you will feel and understand what I'm Talking about when you'll be listening to those great 11 tracks , and I'm pretty sure you'll love them like I do.
Cheers
Nico Duportal