CD: SHAKEDOWN TIM & THE RHYTHM REVUE: "SHAKEDOWN's TH'OWDOWN" (2018)
5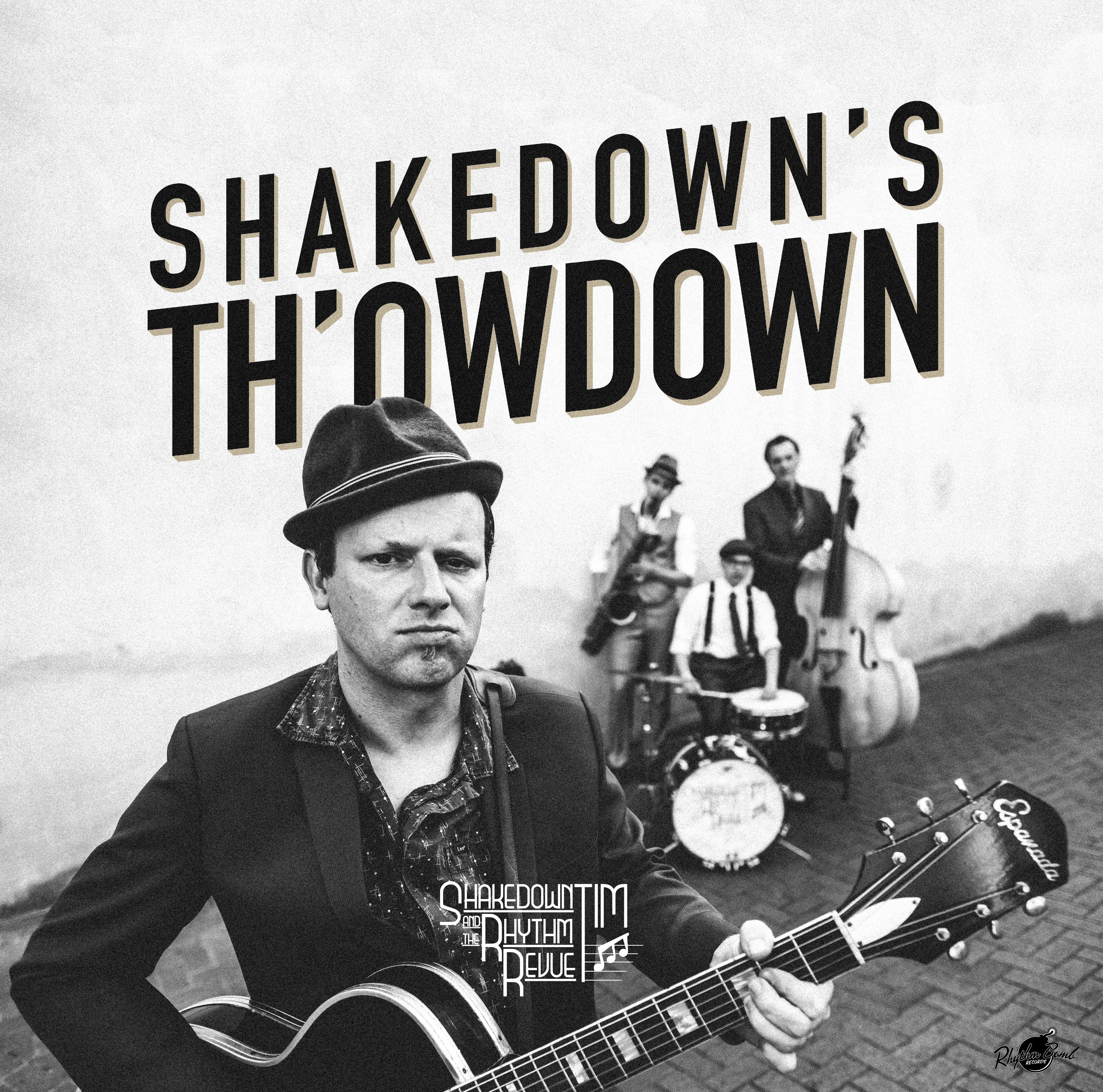 Shakedown's Th'owdown
We've recorded this brandnew album with the help and guidance from my hero and friend James Harman. When on tour with James, I asked him to be the producer of the new album. He immediately stepped aboard and put on the captain's hat. When I told him we were gonna record in The Sputnik Studio, he responded: 'this session's gonna be out of this world'.
The captain didn't just stay in his big cabin. He also layed down some fine downhome acoustic harmonica on 'Drop you like a bad habit' (lowdown version) and on 'Did the best I could'. On 'Icepick's Shakedown Th'owdown' he used Big Dave's microphone and my '41 MA17 Masco amp. He surprised us by shoutin' out loud the album title and turning the recording room into a real juke joint party on a saturday night. One take -> BAM!!! Thank you James!
Piano player extra ordinaire and James' long time buddy Gene Taylor was also there to tickle the ivories on six tracks. The music we did fitted Gene like an old shoe. Even after a recording career of 45 years he still has new tricks up his sleeve, just when you weren't expecting it. He played beautifully!!! Listen to 'No more fightin'… How blue can you get?
After the piano session, we relaxed, listened to some priceless crazy stories by James & Gene, had some beers and… Gene made the engineer, play our recording of Pee Wee Crayton's 'Blues after hours' over and over again until he eventually threw us out. BTW Thank you Pee Wee and especially Junior Watson for a lifetime worth of inspiration!
Recording Kathleen Vandenhoudt's voice on 'The way it's gonna be' was as easy as falling of a log backwards, but much safer. She nailed it in one take, but gave us two, just in case… she's a solid trouper.
The Rhythm Revue was in great shape (as always) and delivered BIG TIME. I'm so proud to play with these fine musicians and friends. Bart blew out some greasy and fat tones while Dennis produced his magic rhythms in the engine room. Boss stayed cool, calm & collected and handled the low frequencies perfectly. (All bass, no treble!!!) while I turned my little '41 Gibson amp all the way up to 10… I'm so glad it didn't catch fire during this hot session.
After we recorded the previous album Hard To Catch', Nico Duportal asked me to write him two songs. Watching his little boy play music inspired me to write 'Junior's mambo'. 'I will unfriend you' is about the way the modern man fights in this digital era.
For the last song on the album 'Let's get a life', I ended up playing my '35 Kalamazoo in the bathroom with only one microphone… If it didn't work out, we could have flushed this track.
This session was a dream come true, working with this great team. It was an unforgettable and inspiring week. I'm very proud of this collection of blues songs about today's life, written and recorded for the modern man and woman. You better buy this record or… 'I will unfriend you' and 'I'm gonna drop you like a bad habit' (hahaha)
Thanks you for your support and listening to this album and… 'I wanna see you baby' at one of our gigs.
Just keep 'Rollin' on' and take care,
Tim ielegems
"Tim and the fellows were easy to work with. I believe we created a very good album."
James Harman, legendary singer, harmonica player and producer from Alabama.
"GREAT session!"
Gene Taylor, legendary piano player from California.
"James Harman with Tim and the Boys is a special combination. This is a great album beginning to end. James brought out the best, and the boys solidified the unique sound of Shakedown Tim and Rhythm Revue."
Tommy Harkenrider, amazing guitar slinger from California.